Collapse of British Airways computer system leaves passengers facing disruption and frustration at Heathrow airport
For British Airways passengers, the disruption caused by the weekends computer system outages endured even when flights had resumed.
Rose Drury, a childcare assistant from Leeds, said she had been attempting to contact the airline about reclaiming her luggage since Saturday. Drury and her sister Olivia had been scheduled to travel from Heathrow to New York on Saturday afternoon, but after they had checked in their bags and cleared security, they waited at the gate for three hours before being told their flight was cancelled.
Leaving Heathrow was honestly like a moshpit, she said. Hundreds of us were waiting to exit the airport. A BA staff member stood on a bench to announce to the crowds that they should leave without their bags, and would receive them later.
Drury said her luggage had important medication that she has now missed for two days so she will have to go to the doctor for more when the surgery reopens after the bank holiday. She had been unable to get in touch with BA, despite calling 20 or 30 times, she said. Since arriving back in Leeds, weve tried to ring continually but just never got through. We cant get through online either.
BA has told passengers they will be able to rebook their flights, but Drury said even if she could reschedule she would still be missing out on trips she had booked and paid for. It was intended to be such a special trip, she said. You dont get to go to New York every day.
Even where flights were operating, passengers still faced disruption. Dr Philip Abraham, a university teacher, was due to fly from Heathrow to Greece to visit family on Sunday morning. Ironically, my flight wasnt even cancelled, he said. The problem was that online check-in was down, as were the check-in machines, so only BA staff at the check-in desks were able to issue boarding passes.
Abraham arrived at 5am and queued for more than two hours to speak to someone and eventually decided to forego the trip. Ive decided to go another time, he said. I reckoned a Greek family trying to get home to Athens deserved a spot on the plane before me.
The airport was in utter chaos, he said. It was clear that there was no contingency for something like this, and staff had not been drilled on emergency procedures. It all felt very improvised, and not very successful at all. It was honestly the angriest place Ive ever been No one knew what was going on, which is why everyone was so miserable. Utter shitshow.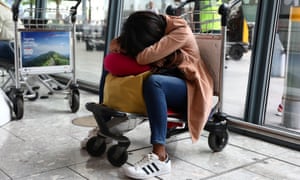 Read more: http://www.theguardian.com/us